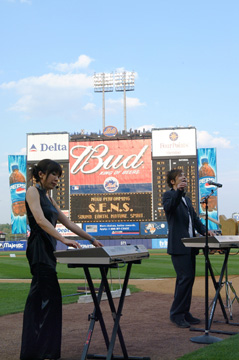 [Performance scenery in New York Shea Stadium]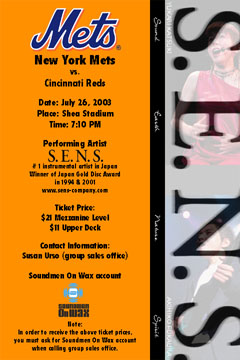 [The Flyer of New York Mets VS Cincinnati Reds]



S.E.N.S. performd as opening act of the MLB "New York Mets VS Cincinnati Reds" at shea stadium of New York on July 26. Performance in the major league is the first time as a major Japanese musician. The tunes that S.E.N.S. played are "Wish" (the main theme of the TV drama "God, just a little more") and the new tune "The Beginning" from new album "The Key". "The Beginning" will release on September 3 with the tune composed when S.E.N.S. visited New York at last December, and this tune was realized as a preceding announcement in U.S. A big encouragement was sent from the audience after the performance, and S.E.N.S. and an audience were as one, and it swelled in the baseball ground.